Howard University Graduate School Announces the 2020 Edward Bouchet Scholars
April 23, 2020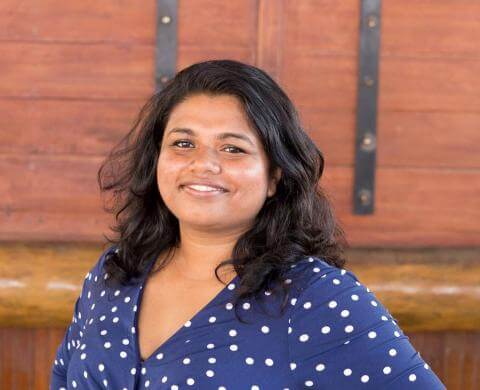 WASHINGTON – The Howard University Graduate School announces five Ph.D. candidates as the 2020 Edward Bouchet Scholars: Colin Campbell, Richmond Danso, Akiv Dawson, Lourds Michelle Fernando, and Jamiee Swift.
Lourds Michelle Fernando - Department of Biology - Laboratory of Anna K. Allen
Lourds Michelle Fernando is a candidate for a Ph.D. in biology at Howard University with a focus in developmental biology. Her research focuses on identifying novel roles of the protein degradation molecular machine in cells known as the 26S proteasome, which may also be involved in non-proteolytic function in the germline of Caenorhabditis elegans. The knowledge gained from her research benefits the germline and reproduction fields in multiple communities, including human fertility research. Fernando has mentored five undergraduate students from her dissertation work; two of these students will present research at The Allied Genetics Conference in April 2020. Other undergraduate students under her mentorship have presented at the Annual Biomedical Research Conference for Minority Student (ABRCMS) and the SEA-PHAGES conference sponsored by the Howard Hughes Medical Institute. She often volunteers at scientific meetings to host students who are first-time attendees. In Spring 2019, Fernando was inducted into the Howard Chapter of Sigma Xi Scientific Research Honor Society. Additionally, Fernando is a Just-Julian Graduate Research Fellow.
"Our Edward Bouchet scholars are competitively chosen, and this year's class is as impressive as those of previous years," says Dana Williams, Ph.D., dean of the Howard University Graduate School. "We are proud of these scholars' service, scholarship, and advocacy for issues that matter to the communities they serve. Their leadership now and in the future will be crucial to society's advancement. We have high expectations of all of our students; these scholars affirm their ability to meet them at every turn. The faculty who teach them are also to be lauded for nurturing our scholars' intellectual curiosity and positioning them to be the change agents we all need to make a better world."
The newly inducted scholars are educated in a variety of fields, and serve as examples of scholarship, leadership, service, and advocacy in great representation of the first African American Ph.D. recipient and namesake, Edward Bouchet.
- Article excerpt written by Imani Pope-Johns and Jamie Triplin
Categories