Howard University Students win Wildcard Prize at the 2019 DC Public Health Case Challenge
November 4, 2019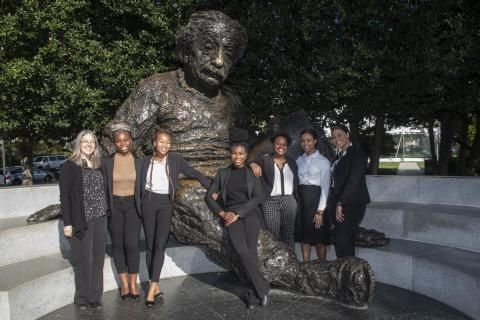 On Friday, October 18, 2019, a team of 6 Howard University undergraduate and medical students participated in and won the Wildcard Prize at the 2019 DC Public Health Case Challenge. The team was represented by HU students across multiple disciplines of the University, and included 2 Biology majors: Senior Michaella Moore and Junior Kailande Cassamajor. Other members of the team included: Regan Burgess (MD candidate), Alannah Mack (MD/MBA candidate), Adaeze Okoroajuzie (Nursing major), and Naomi Rankin (Mathematics major). The faculty advisor for the team is Dr. Anna Allen, Associate Professor in the Department of Biology.
The DC Public Health Case Challenge competition is sponsored by the National Academies of Sciences, Engineering, and Medicine (NASEM) and is modeled on Emory University's Global Health Case Competition. The Challenge aims to promote interdisciplinary, problem-based learning around a public health issue that faces the local DC community. The theme of this year's case revolved around reducing health disparities in maternal mortality by addressing unmet health-related social needs for residents of DC. The team of 6 Howard students devised a solution to this topic they called UJIMA (Uniting Justice In Maternal Advocacy) that the judges deemed innovative and capable of filling a large existing gap within DC public health policy.
Howard University should be extremely proud of the team for representing them well at this event, and for winning the Wildcard Prize out of 6 competing teams. For this 7th annual competition, seven local universities participated including: American University, George Mason University, George Washington University, Georgetown University, Howard University, University of Maryland- Baltimore, and the Uniformed Services University of the Health Sciences. It is also noteworthy that our HU team has won a prize in 5 out of the 7 DC Case Challenges sponsored by the NASEM.
Categories